After feeling sad yesterday about the lack of nice weather, we woke up to a beautiful, sunny day. We ended up cancelling a play date due to Emily's cold, but I thought we should still spend some time outside - afterall, this being Oregon, there is no guarantee that the sunshine will stay for long!
First, we headed out to a nearby farm to pick up a dozen fresh eggs. My mother recently recommended the book
Animal, Vegetable, Miracle
to me, and it really changed my perspective on what and how we eat. I've really tried to start living as a locavore - eating foods grown and produced locally. We are fortunate to live close to several large farms that sell organic, free range eggs for $2.50 a dozen - over $2 cheaper than the organic free range eggs I see in the stores. It's fun for Ava to put the money in the box, and fun to come home and cook eggs that really do taste better than their storebought counterparts.
After our foray to the farm, we stopped at home for Emily's nap and some lunch, and then went back out into the sunshine and to one f our favorite parks, Cook Park. There are two playgrounds, and one is geared towards the toddler and preschool set. Emily adores the swings and sitting in my lap to go down the slide. After some playing, we walked through the butterfly garden and looked at all of the plants that are beginning to bloom. Sadly, my camera's battery died during our outing, so I don't have pictures.
After our afternoon naps and dinnertime, Ava and I went back outside to do a bit of scooter riding (the BEST birthday present - thank you, Ellie!). Here are a few pictures and a video:
Emily in the swing: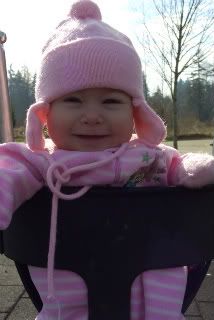 Ava on the scooter:
Some lovely daffodils in our front yard: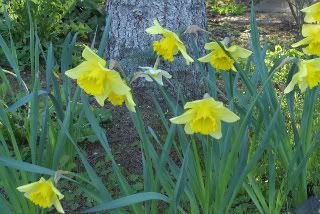 There is some sound in this clip: