I was lucky enough to find out about a
discussion/class for new moms
when I had Ava. The group was facilitated through Providence and helped me know that a) I was not alone in having half of my hair fall out 3 months post partum, b) babies cry for no reason A LOT, and c) moms need other moms to support them. Ava and I have been active members of a playgroup through that new moms class for almost 3 years and I can't describe how important it has been to me. What's also been great is that over the past year, a lot of members have added siblings and recently, those of us with 2 began meeting a few times a month. While we all expected our hair to fall out again, we have all been suprised at just how different our second babies are from their older siblings, so it's been wonderful to be able to support each other through motherhood the second time around. This morning, I was able to host a few moms and their kids - the older kids were able to chase each other down, while the babies babbled and practiced tummy time. We moms just tried to manage the chaos that ensued! Here are a few of the kids: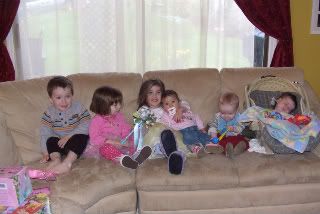 Before everyone came over, Ava helped me make some yummy Banana Coconut muffins to share. These are a staple in our house, and soooo easy to make (and great to make with your kids!), so I thought I'd share the recipe:
Banana Coconut Muffins
recipe:
Epicurious

Active time: 10 min Start to finish: 45 min
Servings: Makes 8.
Ingredients
1 1/4 cups all-purpose flour
1 teaspoon baking powder
1/4 teaspoon salt
2 very ripe bananas, mashed
(3/4 cup) 1 stick (1/2 cup) unsalted butter, melted
2/3 cup sugar
1 large egg
1/2 teaspoon vanilla
3/4 cup sweetened flaked coconut
Special equipment: a muffin tin with 8 (1/2-cup) muffin cups; paper liners
Preparation
Put oven rack in middle position and preheat oven to 375°F. Line muffin cups with liners.
Whisk together flour, baking powder, and salt in a bowl. Whisk together bananas, butter, sugar, egg, vanilla, and 1/2 cup coconut in a large bowl until combined well, then fold in flour mixture until flour is just moistened.
Divide batter among lined muffin cups and sprinkle with remaining 1/4 cup coconut. Bake until muffins are puffed and golden, about 25 minutes. Transfer muffins to a rack and cool slightly.
Ayelet's notes
: I usually substitute unsweetened applesauce for the butter and half of the sugar, and replace the AP flour with white whole wheat pastry flour. For playgroups, I make these into mini-muffins and bake them for about 20 minutes.