We had a pretty rough start today...Emily was awake all night long due to teething and a very stuffy nose, and she was pretty miserable all day. Unless I held her, she was NOT a happy baby. I did manage to get her to take a nice nap in the middle of the day (THANK YOU
teething tablets
!!).
Just after Emily fell asleep, Ava told me she wanted to play catch and also "make pweedy artworks." Hmmm...how to make art with a ball? A quick browse online gave me
this
dea. How fun! Ava had a blast rolling the ball and paint around. We sang the "Shake and Shake and Stop" song while she painted.
Here are a few samples of her work: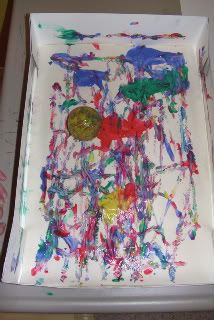 After we had fun with ball painting, we made this cute feathery duckie: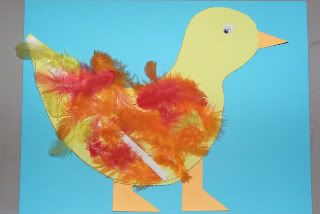 Ava is obsessed with ducks lately...probably because I told her that it was almost time to go feed the ducks at our favorite park. She asks me every morning if we can feed them, so hopefully the wacky March weather will go away and we'll get a few days of sunshine so that we can get to the park. Until then, we'll stay home and do art projects all day long!